World Breastfeeding Week (WBW), celebrated August 1-7, aims to encourage and support breastfeeding around the world. The week commemorates the signing of the Innocenti Declaration on the Protection, Promotion and Support of Breastfeeding in August of 1990.
While progress has been made in the past twenty-five years of WBW, much remains to be done. This August, the World Alliance for Breastfeeding Action is focusing on breastfeeding and the workplace: "Whether a woman is working in the formal, non-formal or home setting, it is necessary that she is empowered in claiming her and her baby's right to breastfeed" (worldbreastfeedingweek.com).
Demeter Press has published a range of books on breastfeeding, from historical fiction to scholarly study to humorous essays. Together, these books explore traditions, practices, and personal experiences of breastfeeding and offer both insight into the past and a way forward, toward a more informed and supportive breastfeeding culture.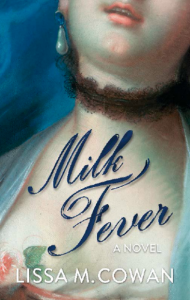 Milk Fever (2013), Lissa M. Cowan's debut novel, is set in 1789 near Paris. Armande, a wet-nurse renowned for the mystical powers of her milk, disappears on the eve of the French Revolution and a young servant girl, Celeste, sets out to find her. Part mystery novel, part historical fiction, Milk Fever explores breastfeeding practices during a time of changing beliefs, rights, and power structures.
On her website http://lissacowan.com/, Cowan writes that her inspiration for the novel came from "a widespread belief at the time that the thoughts of the mother who breastfed could become impressed upon the child." Cowan took this idea further in creating Armande, a wet nurse who, unlike most, was educated. How would such a woman be received in eighteenth-century rural France? What impression might she have on the infants she nursed and how might physical or mental characteristics be imparted? Through her compelling plot and characters, Cowan deftly raises questions about breastfeeding, sharing breastmilk, and cross-nursing still relevant today.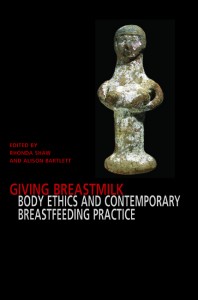 Giving Breastmilk: Body Ethics and Contemporary Breastfeeding Practice (2010), a collection of scholarly essays from writers across North America, Australia, and New Zealand, also examines issues of sharing breastmilk, as well as the process of "making milk," the politics of breastfeeding, and academic theory around bodies, breasts, and breastfeeding. Editors Rhonda Shaw and Alison Bartlett assert that Giving Breastmilk is "distinct from how-to books on breastfeeding as it is primarily interested in questions of ethics and epistemology, philosophy and politics of breastmilk, and their effect on practice."
Essays in this collection examine such diverse issues as current practices and experiences of using the breast pump, the ethics of human milk banking, intersections of class and race in interpretations of breastfeeding by US child protective services, and how unresolved envy can affect breastfeeding practices. Together these essays highlight that, as editors Shaw and Bartlett write, "the place of breastmilk in culture and politics is never neutral, always contested."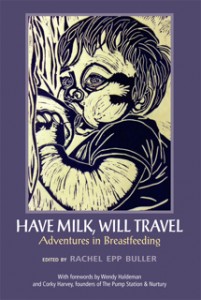 Have Milk, Will Travel: Adventures in Breastfeeding (2013) explores the humour of breastfeeding through personal essays, poems, and comics. Breastfeeding "makes for some good laughs," writes editor Rachel Epp Buller, and in that laughter there is camaraderie, compassion, and resolve. Buller has collected insight and humor from women at various stages of their careers and with various experience in both writing and breastfeeding.
The book opens, for example, with an essay well-suited to this year's WBW theme of breastfeeding and the workplace. The right to breastfeed at work also means, for some women, the right to pump breastmilk at work. Jenna McCarthy, a "radio personality," tells of pumping from the ladies room at her workplace when her male co-host called on her cellphone and aired the pumping—"Wheeze, pull, moan, suck"—live. Infringement of privacy or much-needed normalization of breastfeeding in the workplace? Like all the essays in Have Milk, McCarthy's both entertains and raises vital questions about current breastfeeding culture and practice.
To learn more about World Breastfeeding Week 2015 follow #WBW2015
August 4, 2015